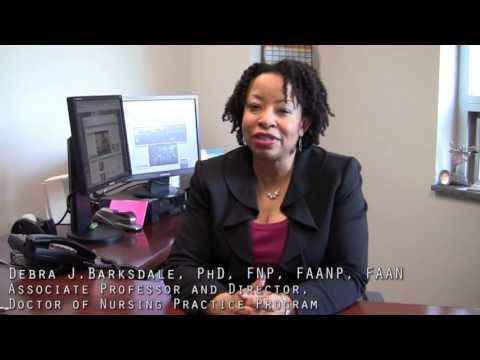 Overview
Q: What is the DNP?
A: The DNP is the Doctor of Nursing Practice degree.
The DNP program prepares nurses for direct clinical practice (specifically Nurse Practitioners, Clinical Nurse Specialists, Certified Registered Nurse Anesthetists, or Certified Nurse Midwives) and for executive roles in areas that support clinical practice such as administration, organizational leadership, and health policy. Parallel with other health care professions (pharmacy, physical therapy, psychology, medicine, and audiology), the nursing discipline is adopting a practice-focused doctorate as the appropriate graduate education for advanced practice in a highly complex, fast-paced, health care environment.
Q: Why choose UNC School of Nursing for the DNP?
A: Excellence. UNC is ranked # 4 among Graduate Schools of Nursing. The classroom-based format enables discussion, collaboration and networking. World renowned faculty are available to provide mentorship crucial to professional development.
Q: What are the pathways to the DNP at UNC-Chapel Hill?
A: MSN to DNP – opens Fall 2013; application available now
     BSN to DNP – opens Fall 2014; application will be available in Fall 2013
Q: What is the focus of the DNP?
A: The curriculum requirements for the DNP are driven by the eight elements from the AACN Essentials of Doctoral Education for Advanced Nursing Practice:
• Scientific underpinnings for practice
• Organizational and systems leadership for quality improvement and systems thinking
• Clinical scholarship and analytical methods for evidence-based practice
• Information systems technology and patient care technology for the improvement and transformation of health care
• Health care policy for advocacy in health care
• Interprofessional collaboration for improving patient and population health outcomes
• Clinical prevention and population health for improving the nation's health
• Advanced nursing practice.
Q: Can one get certified in a new area through the MSN to DNP Pathway?
A: No, the MSN to DNP will not provide certification in a new area. Please consider enrollment in our Post MSN Certificate Program to gain certification in a new area. http://nursing.unc.edu/academics/post-msn-programs/index.htm
Logistics
Q: How long is the MSN to DNP Pathway?
A: Those admitted with a master's degree, and who are already nationally certified as an advanced practice registered nurse (e.g., NP, CNS, CNM, or CRNA), will only need the DNP content not included in their prior program of graduate study. They will require 37 to 41 credit hours, a maximum of 500 practice hours, and the completion of an evidence-based practice or policy focused capstone project. Those students admitted with master's degrees and are not prepared as APRNs (e.g., nurse managers) will work closely with their advisor to develop a program of study that credits prior graduate level work, enables them to meet DNP end of program objectives, and prepares them for roles as a nurse executive.
The full-time course plan is 4 semesters: Fall, Spring, Summer, and Fall
The part-time course plan is 5 semesters: Fall, Spring, Summer, Fall, Spring
Course Plan Examples (not finalized)
Q: How much time should I plan to spend per week?
A: Students should plan to spend two hours out of class for every hour in class to complete course assignments and preparation.
Q: Can I work full time and attend the MSN to DNP Pathway?
A: Doctoral study does require concentrated effort. Although your courses might meet only one day per week, you must consider the time required outside of the classroom. Due to the intensity of the Full-time plan of study (4 semesters) it would be very difficult to work full-time.
Q: Is this program online?
A: No. UNC-Chapel Hill School of Nursing offers a campus-based program although most of the DNP courses have a distance component or hybrid format.
Q: When are classes held?
A: Most DNP courses are scheduled for Tuesday starting at 9 a.m. and potentially ending at 8 p.m.  There is one DNP course offered on Wednesday evening from 5-8p.m; however, DNP students will not be required to take this course in the Fall because it will be taught again in the Summer. We will evaluate previous course work to determine which courses a student needs to take and develop a plan of study.
Q: Do I need experience as an NP before I apply?
A: No.
Q: Why must I take the GRE again?
A: The GRE is currently a Graduate School and SON requirement. Applications are evaluated on a variety of criteria so do not let the GRE hinder you from applying.
Q: Must students find their own site for the capstone project?
A: No. The School of Nursing will facilitate the clinical site for the capstone practicum.
Q: Is a dissertation required?
A: No, a dissertation is not required; a capstone project will be required.
The nature and scope of scholarly projects differs significantly from the traditional dissertation.
This non-exhaustive list reflects a range of types of capstone projects:
• Translate research into practice
• Quality improvement (Care processes, Patient outcomes)
• Implement and evaluate evidence based practice guidelines
• Analyze policy: Develop, implement, evaluate, or revise policy
• Design and use databases to retrieve information for decision making, planning, evaluation
• Conduct financial analyses to compare care models and potential cost savings
• Implement and evaluate innovative uses of technology to enhance/evaluate care
• Design and evaluate programs and models of care
• Collaborate with researchers to answer clinical questions
Cost
Q: How much will it cost?
A: Please see the estimated Cost of Attendance. Note: Tuition rates are likely to rise for AY 2013-2014 by the fall semester. This document will be updated with the new tuition rates as soon as they are announced.
Q: Will financial aid be available?
A: Yes, Please complete the FAFSA now. http://www.fafsa.ed.gov/
Q: Are there Scholarships available?
A: Yes. Please review the School of Nursing's DNP Financial Aid Page for DNP Applicants.
Q: Does UNC offer Teaching Assistant and Research Assistant positions?
A: Yes. Qualifying DNP students may apply for TA and RA positions.
Specific application instructions will be posted on this page: https://nursing.unc.edu/academics/doctor-of-nursing-practice-program/dnp-application/
Q: Who can apply?
A: The MSN to DNP Pathway is available to applicants who hold a master's degree in nursing from an NLNAC or CCNE-accredited program.
Q: What is the application deadline?
A: Tuesday, May 14, 2013
Q: What materials are needed for the application?
A:
Unofficial transcripts from all colleges attended are required
Copies of certification and RN licensure
Graduate Record Exam Scores. An applicant's GRE scores must be less than five years old at the time of application submission. Register for the GRE through ETS. The UNC Chapel Hill Graduate School code is #5816.
Letters of Recommendation

Three (3) current professional letters of recommendation supporting the applicant's potential for success in the DNP program. Recommendations should be submitted by at least three individuals familiar with the applicant's intellectual ability, academic achievement, practice expertise, and professional commitment to nursing.
Referents should include at least one doctorally prepared faculty member, a current supervisor in an employment setting, and a professional colleague with at least a master's degree. Please do not include letters from relatives, a family friend, fellow staff members, or a religious/spiritual leader (e.g. minister, rabbi).
5. Professional Statement (requirements outlined on the DNP Application page)
6. Resume
7. Application Fee ($85)
Q: How many students will be admitted?
A: The School of Nursing will admit 32 MSN to DNP students for fall 2013. In fall 2014, the program will expand to include the BSN to DNP Pathway.
Q: When will applicants be notified of admission decisions?
A: June 2013
What steps should I be taking now?
• Register for the GRE if your scores are over 5 years old www.ets.org/ – the UNC Chapel Hill Graduate School code is #5816.
• Complete the FAFSA http://www.fafsa.ed.gov/
• Identify your 3 Recommenders (see description above)
• Update your Resume
• The application will require that you upload unofficial copies of your transcripts, so make sure you have access to all of your documents.
Contact Us
Jennifer Moore, Assistant Director of Graduate Admissions is the primary contact for the Doctor of Nursing Practice Program. Please email your questions to SON_DNP@unc.edu.
Information Sessions
DNP Information Session dates and times are available on our Information Sessions Page